'Drawing and Painting Horses'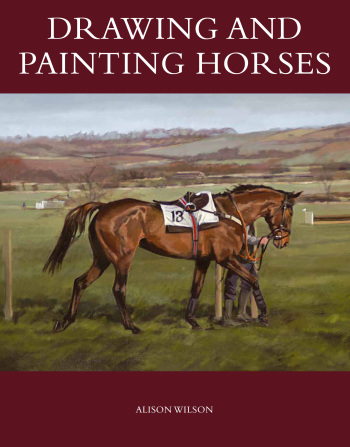 This newly published book is a comprehensive guide to drawing and painting horses. It is intended both for those with some experience of the horse as a subject but who want to take their skills further, and experienced artists who are new to the horse as a subject.
'Drawing and Painting Horses' is packed with specialised help, information and advice for the artist working with horses. The book also covers many aspects of drawing and painting, indoors and out, which would be just as applicable to artists drawing and painting other subjects. It covers techniques, equipment, working directly from life, formal composition in the studio, and exercises in drawing, tone and colour. It was written by Alison and is illustrated with over 200 of her own drawings and paintings (as well as paintings by other contemporary artists)
It is available from bookshops, and direct from theCrowood Press
ISBN: 1847975992
'Thoughts on Schooling'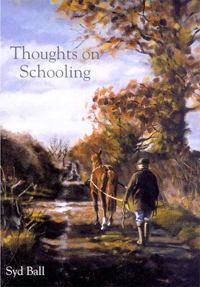 Alison has illustrated a book on the schooling of horses by a well-known horseman, the late Syd Ball. In writing this book, Syd drew on his lifetime's experience with horses to help other people who want to improve their own horse with some good basic schooling. The book specifically addresses the common problem of 'one-sidedness' in the horse, but also tackles problems such as catching a pony in a field, training a horse to stand quietly when tied up, introducing side reins for the first time when lungeing, and problems with jumping.
Syd's working life began with farm horses during the Second World War. When the heavy horse gave way to the tractor, he took to riding. Syd schooled many horses (and taught many riders) over the years as a qualified instructor, working both privately and with the Pony Club. In his later years he specialised in re-schooling problem horses. This handy 108-page A5 paperback is illustrated throughout with over 80 line drawings and diagrams by Alison who worked closely with Syd on this project for some time. It has been produced on high-quality paper with an attractive colour cover and has a stitched binding for added durability. A limited edition print of the front cover is also available.
An ideal present or stocking-filler for any horse owner, the book is priced at £7.95. It is available by mail (UK mainland) for £8.95 including postage - a downloadable order form is available on the Prints page. A sample chapter of the book in PDF format is available (click here). Please note that for reasons of download speed, the sample chapter illustrations are of a lesser quality than those in the actual book.