Welcome to the website for the paintings of Alison Wilson.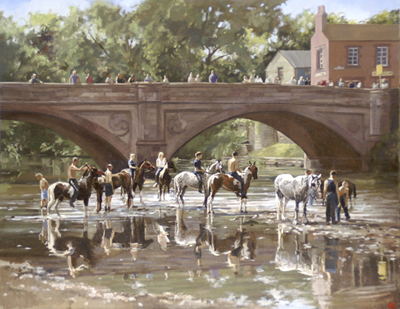 Based in the UK, Alison trained at the Slade School of Art. Her work on this site is chiefly painings in oils on equestrian subjects from racing and hunting to coloured gypsy horses, though she also works on other subjects such as landscape and life painting and spends a lot of time drawing.
Some years after leaving the Slade, and following a long tradition in English painting, she worked as a freelance scenic artist in the theatre, painting scenery for a wide range of productions from pantomime to opera. During this period she also studied advanced scene painting techniques at the Lester Polakov Studio, New York.
In the early 90's, Alison left the theatre and taught life drawing to art students. This was as a result of her belief in the importance of passing on the traditional drawing skills which are no longer taught in many art schools. Though she has now been a full-time artist for over ten years, she still teaches advanced students occasionally.
Alison's rigorous attention to detail in technical as well as artistic matters is evident when the paintings are closely examined; they are painted on linen canvases prepared by the painter herself using traditional methods and materials of the highest quality.
All the paintings on this site are oils, and most are on canvas. Many are still for sale, and more paintings are available than are displayed here. Alison does a limted number of commissions each year. (Please note that for commissioned work, the artist would need to visit the subject in person, since clients' photographs are unfortunately not suitable as source material.) Drawings and line illustration work can also be undertaken. Examples can be provided.
As a general guide, prices for oils are in the range of £350 - £650 for small works, and £650 - £3500 for larger works. If you would like information about the price of a particular painting on the site, images of other works that may be available, or would like to find out more about commissioning a painting, please e-mail the artist via the Contacts page on this website (see above).
Copyright Notice: All images and text on this site are © Alison Wilson (all rights reserved). Use of any of the images on this site without the express written permission of the artist is not permitted. If you wish to use any of the images, please contact the artist.